Benjamin Constant and Constitutionalism
Palabras clave:
Benjamin Constant, constitutionalism, liberalism, Boubon Restoration
Resumen
Benjamin Constant (1767-1830) was one of the most famous liberal politicians and writers of the Bourbon Restoration in France (1814-1830). In 1814 and 1815, he wrote a number of notable works on constitutionalism. This article places these writings in their historical context, and summarizes Constant's liberal pluralist constitutional philosophy. Constant insisted on the protection of rights, on a representative system of politics based on popular sovereignty, on the separation and balance of power, and on religious toleration. He worried about the destabilizing effects of "fanaticism," and argued that a liberal constitutional regime would not endure unless citizens embraced a politics that permitted contestation, negotiation, and compromise.
Fecha de envío / Submission Date: 5/12/2014
Fecha de aceptación / Acceptance Date: 24/05/2015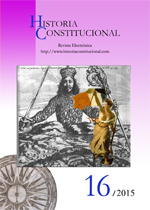 Descargas
Licencia
Los autores que publican en "Historia Constitucional" ceden a la revista el derecho de primera publicación, así como la facultad de explotar y usar el texto para ulteriores publicaciones.
Los autores deberán comunicar a la revista ulteriores publicaciones de su texto.